Warren County, Ohio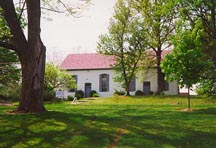 1810 Meeting House in Waynesville
Several members of my family moved from New Jersey to Warren County in the early 1800s. Waynesville was home to a number of Quakers, and was largely a Quaker town in the early days. Besides the Hopkinses, there were members of the Borton, Brown, Crispin, Engle, Glover, Haines, Jennings, Stokes, Ward, and other families who made the journey from New Jersey to Warren County.
On this page, I want to give some basic information about the early settlers, and leads to more information that's available on the Web. I also have some new information about members of the Ward families who emigrated from Gloucester County, New Jersey.
The following is an excerpt from:
Proceedings
Centennial Anniversary
Miami Monthly Meeting
Waynesville, Ohio
10th Month, 16-17, 1903
in an article about the history of the Miami MM 1803-1828, written by Clarkson Butterworth:

This publication is available through Heritage Quest Online, which is provided by many public libraries. Butterworth tells of the earliest Quakers to arrive in Warren County, most of whom came from meetings in South Carolina. Quakers had moved to the South, along with many others, but had found the institution of slavery to difficult to live with, and had relocated to Ohio when those lands became available.
Butterworth lists the first group of Quakers to move to Warren County, coming from the Bush River meeting in South Carolina in 1802:
Abijah and Anna (Kelly) O'Neall and children
Samuel and Hannah (Pearson) Kelly and children
James and Lydia (Jay) Mills and children
Robert and Sarah (Patty) Kelly and children
Layton and Elizabeth (Mills) Jay and children
Ann Horner, wife of Thomas Horner
Ellis Pugh and Phebe his wife
Jemima Wright and her five children - Jane, Joshua, Jemima, Joab, Joel
The next group came in 1803 from Cane Creek MM, in South Carolina:
Amos and Elizabeth (Townsend) Cook and family
Levi and ann (Fraizer) Cook and family
Esther Campbell, Naomi Spray
Samuel and Mary (Wilson) Spray and family
Robert and Hannah (Wilson) Furnas and family
Dinah (Cook) Wilson
Jehu and Sarah (Hawkins) Wilson and family
Christopher and Mary (Cox) Wilson and family
Thomas and Tamar Cox
Others listed include:
Ezekiel and Abigail Cleaver and family
Samuel Linton and five children: Nathan, David, James, Elizabeth (Linton) Satterthwaite, Jane (Linton) Arnold
Edward and Margaret Kindley and family
John Mullin and family
Benjamin and Hannah Evans and family
These were the witnesses to the marriage of Enus Baldwin, son of Jesse Baldwin and his wife Hannah of Liberty Township, Ross County, and Sarah Hunt, daughter of Phenehas Hunt and his wife Elisabeth of the same township. The marriage was observed at the meeting in Weinsville on 18d 11m 1804.
John Crew
James Haworth
Jacob Beals
William Baldwin
Pleasan Hunt
Thomas Beals
Evan Evans
Jese Baldwin
Hannah Baldwin
Sarah Lad Crew
Phenehas Hunt
Aaron Hunt
Curtis Beals
Daniel Beals
Jacob Beals
Solomon Wright
William Pope
Enoch Ballard
Grace Lupton
Elizabeth Beals
Lydea Lupton
Susannah Beals
Patiance Carr
Anne Crew
Catherine Hunt
Elizabeth Hunt
Bathsheba Lupton
Source: Old Northwest Genealogical Quarterly, Vol 8, No 1, p. 52-53.
I've transcribed some information on the early settlers of Warren County from the book The History of Warren County, Ohio (Chicago: W. H. Beers & Co., 1882). Click this link to see this jpg file.
Two sets of marriage records are available in two pdf files. One is primarily Quaker records from the Miami Monthly Meeting. These were transcribed from the Old Northwest Genealogical Quarterly, cited above. The second file was transcribed primarily from The History of Warren County, also cited above. There is some overlap between the two lists. These pdf files are searchable using the Adobe Reader search function.
I've also transcribed names of early settlers from four books about early-day Ohio. They're available by clicking on this link: early-oh.htm.
These pictures are scanned from The History of Warren County, Ohio:
Biography of Benjamin A. Stokes
BENJAMIN A. STOKES, farmer; P. 0. Ridgeville. The family of which we now write, and whose history forms an extensive link in the history of Warren County, we are able to trace to Thomas Stokes, a native of London, England; a biscuit-maker by trade, who emigrated to America at a very early day and settled in Burlington, N. J. He was one of the grantees to whom New Jersey was ceded by the crown of England. He had four sons, of whom John, the youngest son, married a young woman by the name of Green, the reputed owner of a farm on the north bank of Rancocas Creek, about one mile below the forks, and there they settled; but soon afterward, her brother came with power of attorney from her father in England, and took possession. John and his wife then moved on to an adjoining farm, which has ever since remained in the family, having been handed down by will, never having been sold, the like of which was, perhaps, never known in American history. They had one son and several daughters. This son's name was also John, who married Hannah, a daughter of Jarvis Stockdale, who, it is said, was a preacher among the Friends and came to this country with William Penn. Mr. Stokes had three sons - John, David and Jarvis; the latter married Elizabeth, daughter of William Rogers, of English descent. They had fifteen children; thirteen grew to maturity, of whom William, the second son and fourth child, was born in Burlington Co., N. J., Jan. 14, 1779, and was the father of our subject. He was married, April 8, 1798, to Hannah Hatcher, of the same county. They had seven sons and five daughters; six now survive - Granville W., born Sept. 23, 1810; Benjamin A., Sept. 3, 1812; Caroline, Oct. 1, 1814, now Mrs. J. Graham; Elizabeth A., Feb. 23, 1816, now Widow McCowan; Hannah, Jan. 6, 1823, now Mrs. Simonton, and William H. Mr. Stokes and family came to Ohio in 1817, and arrived at Lebanon July 4 and settled on a farm in the southwestern part of Clear Creek Township, where he passed the remainder of his life. He was a strong, robust man, weighing about 200 pounds; he was an energetic, active man, prompt in all his transactions, and possessed a high Social nature, full of mirthfulness and wit, and was the life of every circle in which he moved. He died Aug. 17, 1838; his wife died in April, 1858. [break]

Benjamin A. Stokes, the subject of this sketch, obtained his education in the log schoolhouse of the pioneers; was married, March 1, 1841to Miss Marla Mulford, who was born in Warren County, a daughter of Joseph and Rhoda Mulford, natives of New Jersey. By this union, they have had ten children, eight now living - Ann Eliza, born Jan. 30, 1842, married C. H. Eulass; Adella, Nov. 21, 1843, married Wallace Tibbals; Ada A., Oct. 23, 1845, married George E. Riley; Thomas H., March 28, 1848; William W., Dec. 8, 1849; Mary S., July 29,1853; Lelia M., Nov. 8, 1858, and Horace B., born Oct. 24, 1860. Mr. Stokes is a man of more than ordinary financial ability; from his start in life in limited circumstances, he has risen to wealth and affluence by his industry and financial ability, especially by the latter. Although never holding or desiring office to any great extent, he has served as a Justice of the Peace nine years, and was a director of the Orphan Asylum and Children's Home. He has given great attention to the educational interests of his township, and has attended to a great amount of public business in settling up estates; is now a director in two national banks and is in full possession of the confidence of his community, and is recognized as one of Warren County's best financiers and a most worthy citizen.
(The History of Warren County, Ohio, pp. 929-930)
Ward Families
One of the early settlers in Warren County was Isaac Ward, who came to the county with his wife Ann (Mason) and his children Mary, Isaac, Mark, Ann, Hannah, Ellis, Evan and Maria in 1804. His son, George C. Ward, with wife Deborah (Sanders) and children Joshua, Rebecca, Eliza and Mary Ann came in 1805. These families were descendants of George Ward and Hannah Waynewright of Gloucester County, New Jersey. Here is a register report in pdf format for these two families.
Two other daughters of Isaac, Elizabeth (Crispin) and Rebecca (Hopkins), moved to Ohio in the early days, settling in Cincinnati. See the page Moving West to Ohio & Indiana for details about these families.
Other Sources:
I found several interesting pages about early settlers in Warren County on other sites. Several are located on the Mary L. Cook Library Ohioana Room site. You might look at the Quaker Genealogy in Southwest Ohio blog and the Waynesville, Ohio: Connections with the Past blog. Look especially at the Waynesville Timeline on that blog. There ued to a complete transcription of The History of Warren County, Ohio on the Warren County GenWeb site. Unfortunately, that site is no longer active. However, it is available at the Internet Archive at this address: https://archive.org/details/oh-warren-1882-beers/page/n9.
---
Back
to Moving West to Ohio & Indiana.
This file was last updated on 1/3/2020.