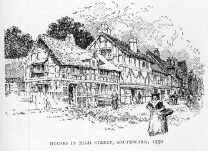 High Street, Southwark in 1550
This is a history and genealogy of the Hopkins family, and families related through marriage, descended from William Hopkins (1634-1705) gardener of St. George's Parish, Southwark, Surrey, England. He and his sons William and Benjamin, and his grandson William, were members of the Vintners Guild of London. His grandson, Ebenezer, was the first of this line to come to America, brought to West New Jersey in 1723 to live with his aunt, Elizabeth Haddon Estaugh. Hopkinses lived in and around Haddonfield in Colonial times, and a number emigrated to Ohio and Indiana after the Revolutionary War. From there, they moved to Nebraska, Kansas, Kentucky, Texas, Oklahoma, and Arkansas.
Some of the other family names related to this line are: Basket, Boerger, Bobo, Boone, Brüegge, Cavender, Clarke, Clement, Corpuz, Cox, Crispin, Dailey, Edmundson, Einsfeld, Ellis, Estaugh, Feldhaus, Fritz, Gerdes, Gill, Griest, Griffith, Grisell, Haddon, Harman, Helvie, Heritage, Hinchman, Hunt, Htndman, Jennings, Krismer, Lord, Lukens, Marriott, Mock, Ostendorf, Potts, Priest, Reck, Selzer, Stokes, Taphorn, Taube, Unciano, Ward, Wharton, Wolf, Wood, Wright, and Young.
My purpose in these pages is two-fold: to present a narrative history of my family, and to publish original documents and data about my family and those related to it through marriage. I try to make the narratives brief but informative, with details available in the supporting data and documents. Please see the sections on Documents and Data in the Table of Contents for a list of those files and documents that are available. I hope, in time, to publish everything I have relating to these families in these pages. I haven't attempted to cite my sources in the narrative, but please see the section on Sources for the references I've used. I'm also happy to provide reports from my genealogy program with source citations. If you'd like to contact me, please click on this link. Please identify which pages or family lines you're responding about when you write.
---
Tip: To search this site, open a new browser window or tab, and copy and paste this into the search box:

site:www.ahopkinsfamily.org

Then type a space and enter a search term. Your search engine (I recommend DuckDuckGo) will search this site, and return the results.
Arthur Hopkins
This file was last updated on 4/12/2021.
---
Site contents © Copyright 1993-2022. Only non-commercial use is permitted. Those wishing to use any part of this copyrighted material should contact me first at the address above. That includes sending this site's information to commercial or other genealogy sites! Please see Note on this page for more on this.
---